Ljubljana is certainly a city with a high quality of life. It is a city of greenery, its very centre occupied by parks and forests, and it also represents an ideal departure point for the discovery of all the variety Slovenia has to offer. Ljubljana demonstrated its uniqueness also by winning the prestigious European Green Capital Award for 2016. it offers everything a metropolis does yet preserves its small-town friendliness. You can find more on Ljubljana on pages such as The official Ljubljana tour guide, Lonely Planet and City of Ljubljana.
Public transport
BUS
The best way to move around Ljubljana is by city bus. The map of bus routes can be accessed here.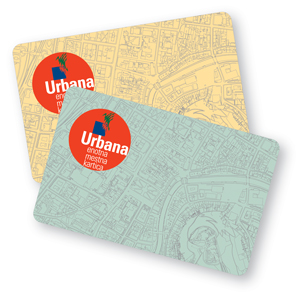 Urbana travel pass
The bus fare can only be paid by the universal Urbana travel pass, which can be purchased and topped-up (buy credit) at kiosks and "URBANOMATS" found around Ljubljana. One of these Urbanomats can also be found in the immediate vicinity of the main railway and bus station. The Urbana card enables free-of-charge travel within a period of 90 minutes from the payment of the first journey, which costs 1.30 €. Please bear in mind that you cannot pay the fare or buy the bus ticket on the spot! More details on Urbana travel pass can be accessed here.
BICYCLE
The green approach to move around Ljubljana is by a public bicycle system called "BicikeLJ". Using this service requires previous free online subscription. Bicycle stations are scattered all across Ljubljana, mostly near larger infrastructures. Renting the bike is again payable by Urbana travel pass. For terms of use and further information please inquire here.
TAXI
In Ljubljana you can also use the services of many taxi companies. The starting rate is usually between 0.93-1.50 € with a per kilometre rate of 0.89-1.10 €, depending on the company, time of day and number of passengers. Waiting usually costs 15-20 € per hour. Ordering a taxi by phone will get you lower rates for longer distance trips.
More detailed information on the public transport of Ljubljana can be found here.
Internet and mobile phones
The WiFree Ljubljana wireless network allows visitors to Ljubljana city centre to use free wireless internet for up to 60 minutes a day. The holders of the Ljubljana Tourist Card can enjoy 24-hour free access to the WiFree Ljubljana network. Wireless internet access is available from the majority of hotels in Ljubljana, in most cases free of charge. Free wireless internet access is also offered by a large number of the city's cafés and bars.
Cost of mobile services
European Union citizens and European Economic Area nations of Iceland, Norway, and Liechtenstein do not have to pay any additional charges to use mobile phone.
Non EU citizens should check roaming charges by their home mobile providers.
Drinking water
Ljubljana is a city which can be proud of its clean drinking water. While rambling the streets of Ljubljana, you can quench your thirst for free at public drinking fountains, which operate from April to October.
Shops
Shops in Ljubljana are mostly open between 8:00 AM and 8:00 PM during the week and from 8:00 AM to 1:00 PM on Saturdays. Lately, more and more shops, especially in the City centre are also open in the evenings and on Sundays.
Places to eat
If you find yourself wandering hungry in Ljubljana there is no need for alarm, because the city has to offer a wide array of different restaurants (Slovenian, Italian, Serbian, Chinese, Japanese, Brazilian, Serbian, Argentinean, Greek, etc.). For true gourmets, there are many places that serve excellent traditional Slovenian food, especially in the city centre. Extensive information about the Slovenian cuisine is also given at Lonely planet, Tripadvisor, In your pocket, and Visit Ljubljana.
City (night)life
Throughout the year, Ljubljana bustles with the arts, ranging from simple street performers right through to grand opera performances, classical music recitals and summer festivals. Ljubljana's large student population fuels an eclectic and buzzing nightlife scene. In summer, people usually socialize on the Ljubljanica river banks. You can find more information on this topic at Tripadvisor, Ljubljana info, or In your pocket, for instance.